10 Areas of Your Home to Focus Your Painting Efforts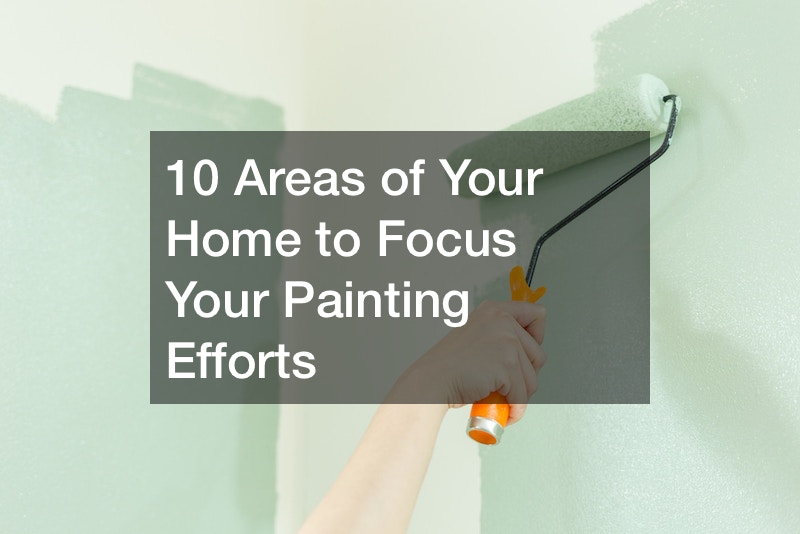 10 Areas of Your Home to Focus Your Painting Efforts

Your home is your sanctuary and should be adorned with colors that reflect style, personality, and creativity. Each room or space in your home has its unique purpose and character. As such, you can breathe new life into it by implementing creativity with that stroke of brush. Whether you're moving into a new home or craving a change, choosing the right areas to paint will enhance the aesthetics and ambiance of your home. Here are ten areas to implement your home painting ideas.
1. Kitchen
A kitchen isn't just a room where meals are prepared; it's also the heart of a home. A new survey conducted on 2,000 Americans found out each person spends an average of 67 minutes daily in their kitchen. That totals 400 hours a year. Moreover, 77% say they cooked with their family members at least once a week in their childhood days. Most of the respondents still had their favorite childhood memories.
Family bonding builds confidence, enhances social skills, and creates beautiful memories. That said, you shouldn't overlook the kitchen when it comes to interior design. Painting your kitchen will bring a transformative experience, thus encouraging family members to unite.
White is the most popular paint color in many modern kitchens. However, it's wise to consult your family members about kitchen color schemes and trendy designs that align with their personal preferences. The aim is to come up with trendy home painting ideas that'll make your kitchen unique.
The kitchen cabinetry is one of the critical areas to focus on when painting the kitchen. Choosing a hue that will always stay in style will save you from costly and time-consuming upgrades in the future. As such, overlook what is on trend and choose colors like greige. Greige is a versatile color that easily pairs with various countertop materials. It also complements various metal finishes. Alexandra Peck Design owner, advises that with Greige, you can change hardware, appliances, and fixtures as you prefer.
Navy is yet another shade that never goes out of style quickly. On the other hand, Shaolin Low, the founder of Studio Shaolin, recommends white for cabinets due to its versatility. Sage green also makes a perfect organic shade that's always stylish. Your local kitchen remodeling company can also help you choose excellent color shades for your kitchen.
2. Bathroom
Home bathrooms are functional spaces prioritizing utility over aesthetics. However, including your bathroom as one area to implement your home painting ideas can redefine its purpose. You'll visit a bathroom regularly, so you can turn it into a place for relaxation and rejuvenation.
Painting the bathroom can be trickier than painting other rooms of a home. Unlike the other larger and dry rooms, the bathroom has much moisture. You'd want to choose the paint finish less likely to trap mold. Forbes recommends satin, semi-gloss, or glossy finish with a mildew-resistant additive. These paint finishes will discourage mold growth and keep your family from diseases like Aspergillosis, which affects the respiratory system.
Modernizing the bathroom with the latest color trends and home painting ideas may not bring the best results without a complete remodel. There is a lot of maneuvering in a bathroom, so you need to open up the floor space and create an illusion of a larger room. The extra space will freshen it up, give space for light, and make it airy.
The tub to shower conversion is one of the most effective upgrades you can do to your bathroom. A free-standing shower system will streamline your bathroom with a modern, turbo-free design. You should also inspect the bathroom plumbing before repainting because metallic pipes take a beating faster. Showers with rusty pipes will release rusty minerals which are harsh to the skin.
3. Garage
Most homeowners focus on garage door service, such as testing the balance. Painting the garage seems like a minor home improvement task, but it can significantly impact your home. A well-maintained garage gives the home's curb appeal, increasing the property value.
While hiring professionals for your newer garage door installation is necessary, it is wise to make it aesthetically appealing. Besides adding value to your home, it can enhance your neighborhood's ambiance. Garage painting lets you choose various colors to complement your theme or match the exterior colors.
The garage floor is generally subject to wear and tear caused by heavy vehicles and foot traffic. The garage floor and the walls wear even faster if you convert it into a store. Moisture builds up, damaging the overcoat and causing rust on the metallic doors. Other than the moisture, engine oils, grease, and various chemicals accelerate the floor cracking, chipping, and flaking.
A well-painted garage is easier to clean. The final coat provides a smooth, non-porous surface that resists stains. You can wipe it easily with a mop or a cloth.
A painted garage is even safer because the slip-resistant layer on the floor saves family members from slip-and-fall accidents. A local painter can generally advise you on home painting ideas and recommend the best garage paints. Light colors like gray, beige, and neutral blues are ideal for the garage because they help hide dirt and marks.
4. Front Door
Most online home painting ideas don't normally include the front door. While it's easy to overlook the front door during home improvement, it is the focal point of a home. The front door is the gateway that welcomes the family members and guests into the house. Painting your front door is more of adding the key element of your home's first impression.
The entry doors theme doesn't have to be like any other ordinary theme. Choose colors that can shift the mood. You need to give the guests a glimpse of what's inside the living room before they enter the house. Moreover, walking through the front door directly to the porch is like crossing the finish line after a long day at work.
What colors are ideal for the front door? Bold front door colors like the Cinder Rose can make your home stand out. A berry blue front door gives the home's entrance a natural touch. The color creates an appealing look on the front door that will always give you a reason to find your way home.
Some home painting ideas may include bright colors for the front door, which is nothing new. Bright-coloured front doors can also show off your style and increase curb appeal. Choosing the front door color is about personal style and creativity. However, if you feel stuck, seek door installation experts to help choose the ideal front door color matching your home exterior.
5. Home Office
The rapidly changing work landscape has transformed home offices from convenience to necessities. Remote work has become a norm for professionals who want to offer services globally. If you fall in the category of professionals, repainting and making your office better is not only about aesthetics. It plays a vital role in enhancing your productivity and well-being.
Although home painting ideas may differ from the office themes and design approach, professionals can help you bring out the best in your office. Note that even though clients may not frequent your home office, most of the time, you may hold online meetings. You'd want to showcase your professionalism with your neat home office.
For instance, if you are a psychiatrist, Key Interiors professionals advise focusing on three things: complementary colors and considering color theory in your psychiatrists office. Complementary colors are pairs of colors that form a high contrast when painted next to each other. Red and green, yellow and purple, or orange and blue are complementary colors. Choose at least one pair for your office.
On the other hand, color theory is how clients will perceive colors and their meanings. You'll note that blue and gray color schemes are common in criminal defense law offices because they convey peace, calmness, and reliability. That said, focus on customer needs when painting your office alongside aesthetics.
Renovating a home office does not only involve the painting but other aspects, too. Good furniture and appliances can impact work performance and personal satisfaction. Say, for example, you have a bankruptcy law office at your home; you must calm your clients, whether online or meeting in person. Blue and gold are the best choices because they are professional and calming.
6. Living Room
The home is the sanctuary, and the living room is a mini sanctuary. Family bonding time is crucial because you share memories and develop social skills. Fortunately, modern families unite in the kitchen and dining. Later, they complete other social activities in the living room before everyone heads to their bedroom.
That being the case, painting your living room is worthwhile because it uncovers profound benefits. A fresh coat will breathe new life into your living room, enhancing your family members' mood, creativity, and social interaction. Moreover, a living room is a space where you hold several functions, like birthdays. Make it more inviting, comfortable, and aesthetically pleasing to your guests.
Most home painting ideas unveil neutral colors like white, off-white, and greige as the most trendy themes for living rooms. However, involving family members in deciding the living room color will help you personalize the space. Otherwise, you can involve a professional for better advice.
7. Windows
Window painting is generally considered a minor home maintenance aspect. But it plays a significant role in preserving the windows' curb appeal. While many homeowners may prefer replacing the windows, painting the exterior frames can change the look. However, you should inspect the frame condition to determine the best step to take. Generally, a little rust or fading can be fixed by repainting the frames.
Another reason you'd want to repaint your windows is to improve the ability to withstand weather elements. During a storm, flying debris and ice can damage your windows badly. However, repainting and performing other preventative maintenance will help the windows withstand the harsh weather.
For instance, sturdy shatters or thick plywood instead of shutters can help resist strong winds. Cleaning the yard will also eliminate the debris that can fly off during windy seasons. Online platforms like Pinterest share unique windows and exterior home painting ideas you can implement in your home this season.
8. Stair Grill
Stair grills form the most crucial part of a home that reveals the home's beauty to the guests. Painting the stair grill will maintain the visual appeal, but that is only the first benefit. It maintains safety because grills act as a support when climbing the staircase. Most likely, the worn-out grill metals can injure the hands and carry mold due to moisture exposure.
Painting the grills is one of the overlooked home painting ideas that may enhance the grill's longevity. A fresh coat protects against wear and tear normally caused by corrosion, rust, and high traffic in the staircase. Furthermore, painting the grills makes maintenance easier because a smooth overcoat will be easier to clean. Preventing dirt, grime, and moisture creates a cleaner and more comfortable indoor atmosphere.
9. Hallways
Hallways are generally single purpose: circulation. These spaces welcome people into the home and enable easy movement from one room to another. As such, painting the hallways is a fundamental and transformative home improvement task beyond aesthetics. Firstly, choosing light and reflective paint colors maximizes the natural light in these narrow spaces to create a welcoming ambiance.
A well-painted hallway will be easier to clean and maintain, contributing to home hygiene and reducing accident risks by reducing clutter. Finally, the hallways with a fresh finish will increase the property value if you intend to sell your home. The space will impress potential buyers with a welcoming look.
10. Bedroom
Painting your bedrooms is fundamental to the home's interior design. Its significance goes beyond the simple color choice because it can impact your health. According to Suzy Chiazzari, a color therapy consultant, colors reflect light wavelengths into your eyes and can affect your biorhythms and body clock. Light vibrations affect your primary functions, mood, and emotions.
Blue, yellow, green, silver, orange, and pink are some of the best bedroom colors listed by Forbes. They are associated with calmness and relaxation, provided they don't have the brighter hues that boost energy. You don't need that extra energy while asleep.
Implementing various home painting ideas in the areas pointed out in this writing will go far beyond aesthetics. Painting is a strategic investment in the functionality and well-being of your living space. Each room of your home plays a unique role in your daily life. So, develop thoughtful painting ideas for each space for transformative impact.