Outdoor Painting Companies for Shutters and Fences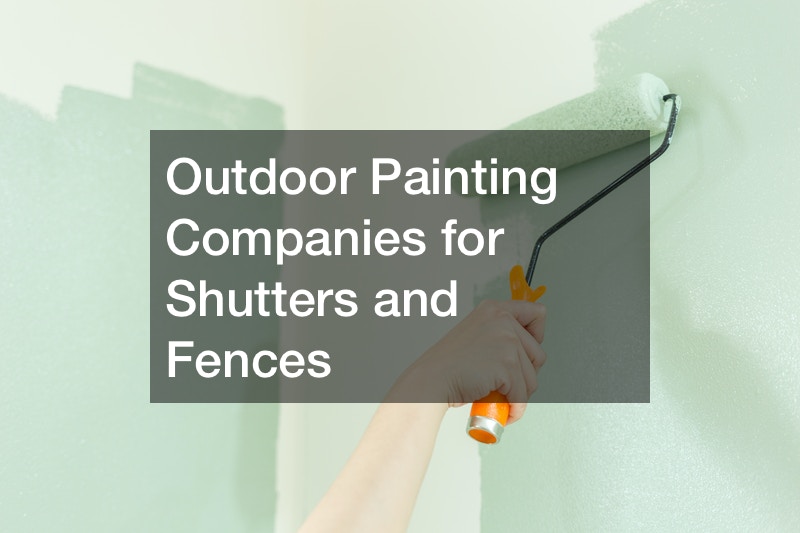 Outdoor Painting Companies for Shutters and Fences

When it comes to exterior painting, there are several areas on your house you can consider. You should have a plan that allows you to implement your exterior improvement projects and make your home more stylish and attractive. Shutters and fences are among the exterior surfaces of your home that will do better with a touch of painting and upgrade. This, however, calls for you to work with the right exterior painting company for better results. So how you find the right companies, and when is it a good idea to look for a reputable one?
Check if the Local Store Can Get You a Good Contractor
Painting window shutters and fences requires a specific set of skills and experience. While the prospect of looking for a painting company out of town can be tempting, you should consider a local one instead. The local store you frequently visit for your supplies can help you find an exterior painter that can productively work for you. When you discuss with the employees your needs, it becomes easier to get a recommendation on how and where to get the best contractor. The paint shop supplies paint also means one can access the right professionals to work with for exterior painting projects such as shatters and fences.
It is beneficial to look for a local painter as firstly, you will save time. If you have broken or damaged wood fences, you want the repairs and renovations done as soon as possible. This is vital as with a quick response; you also get a chance to protect your home and family. Secondly, you will save money. Hiring an outdoor painting contractor who is out of town also means spending considerably to access the services. This can affect your financial plan and budget in the long run as it can be costly. A local exterior painter will help you save both time and money.
Check the Skill Set and Experience Level of the Painter
You can hire any exterior painter to handle your painting project. However, with painting shutters and fences, you need to work with painting contractors who possess the necessary skills and experience. When it comes to skillset and experience, you should be keen on how much attention the contractor pays to small and big issues. A good exterior painter will take time to analyze the problem, find solutions, and embark on the task at hand. There is confidence in the services the contractor provides when attention to detail becomes the priority.
When looking for an outdoor painter to handle your shutter and fence needs, you should consider a professional who can do more than just painting. This means finding a painter who can repair broken shutters and install fences in areas where there are missing. A multitasking painter makes everything easier for you as you will avoid spending more money on other professionals to do the same work for you. The exterior painter should also give you advice and guidance on effective maintenance tips that will elongate the functionality and service of your shutters and fences apart from painting.
Be Keen on Networking
The right outdoor painting company should have connections and effective networks that will make it possible for you to reach other contractors in the market. Seek to work with a professional who will direct you to a fence contractor if you need professional fence repair and maintenance services. A fence expert will deal with repair needs and make it possible and easier for the exterior painter to work. You also learn what makes the right wood for your fence and when you should consider a replacement.
As a homeowner, you get an array of knowledge and insight about shutter and fence installation, painting, repair, and maintenance when working with an outdoor painting company with a good network. If the company has a good and productive network, it also tells you a lot about its reputation in the market. You will avoid the stress of research and reviewing comments and opinions from previous clients as you can get credible information about the company and their services from their networks. You should, however, look for other options if the feedback you get is unsatisfactory.
Affordability of the Services
The affordability of the painting services you will get to a larger extent determine how far the project will go. When looking for an outdoor painting contractor, ascertain the affordability of the services. This will help you create a sustainable budget and have a financial plan that makes it possible to meet your expectations. You should note that you have to consider different things for a productive shutter and fence painting project. You need to find the right paint with the right color and do repairs on the fences where necessary, which can be costly in the long run.
By checking on the affordability of the exterior painting contractor, it will be easier to plan well financially and handle other related needs without disrupting your budget. The right exterior painter will give you estimates for the job and help you plan your budget well. If the services are affordable, you also meet your expectations easily. It is vital to ascertain that the painter's quality of services matches the amount you are about to pay. This is by checking out some of the finished projects the painter did for other clients and the rates.
Insurance
You should note that painting jobs involve the risks of falling from ladders and scaffolding. While this is something you do not want happening when painting your shutters or fences, there are still possibilities. When looking for an exterior painting contractor, look for one that has a compensation insurance cover. Most commercial painting services provide insurance covers for their workers. This is vital as you will avoid extra expenses in case of accidents, especially if the professional sustain severe injuries. You will easily handle the situation if the contractor has an insurance cover.
It is significant to look for an exterior painting contractor with insurance cover as you will be protecting the welfare of the workers and safeguarding your property. Chances of shutters or fences getting damages while the painter is working are much higher. But you wouldn't have to incur repair and maintenance costs if the contractor has insurance. Working with an insured exterior contractor protects your property and safeguards the welfare of your family in the process. You will have a settled mind and find it easier to concentrate on other improvement projects in your home.
Communication
You want to work with an exterior painting contractor who values effective communication. Meeting your project objectives becomes possible when there is easy and effective communication between you and the painter. You need to communicate your expectations and make sure that the painter helps you achieve them. Communication is a skill that every painter should have, and you should seek to ascertain when looking for one in the market. You also create a rapport with the painter when you communicate well with each other. With a good relationship comes a better avenue to meet your objectives hence the need to be keen on the communication skills of the painter.
When it comes to exterior painting projects, especially on your shutters or wood fences, effective communication helps you find faults in the project and how best to solve them. You can address issues on time and get the best from your efforts in the process. You also learn the best tips on maintaining your shutters, how to protect your fences, and when is the best time to call for a professional to do the work for you. Effective communication helps you learn productive tips that make it possible to do the painting yourself.
Check for Guarantees and Warranty
Consider an exterior painting company that will provide a written guarantee for the work done. This is vital as you will avoid disagreements and other conflicts relating to the services provided. You need to be certain that you will only get quality work as per the agreement with the contractor. Most exterior painting contractors provide a written contract that gives details on the project's period, the kind of services to expect, the pricing, and other factors such as insurance. With a guarantee, there is confidence in the painting project and the results after that.
The best outdoor painting company for your shutter or fence painting project should offer a warranty. A warranty is essential for fades, warps, cracking, and peeling. The right painting job should last long and serve your home for a while before you have to repaint. When the job fails to meet your expectation, you should claim the warranty, and the company will redo the painting. Having a warranty saves you money and the use of resources where you haven't planned for.
Quality Checks
Apart from ascertaining an exterior painter's skill set and experience, you should also be keen on the quality check. This essentially means checking the quality of the work done by the contractor. Quality checks involve looking at different aspects of the painting work. You should be keen on the type of paint used for your window shutters or fence. This is important as there are different types of paints for residential and commercial painting projects. Ascertain that the painter is using the right one for your projects. The quality of the paint will also determine how good or attractive your home will be in the long run.
Remember, you are looking for an outdoor painting company to access quality painting services that will make your home appealing and hospitable. When it involves quality checks, ensure that the painter is using the right tools and equipment. This is vital as with the right tools and equipment; you should expect better results. You don't want to regret hiring the exterior painter hence the need for these checks. You should also be keen on the company's safety measures, especially if the painting involves workers going to higher heights. With effective quality checks comes a better result in your project.
Look for Feasible Options
You should understand that there is no shortage of available resources for prospecting outdoor painting companies in the market. Finding the right painter for your shutter or fence project becomes easier when you prepare a list of available painting companies that you can contact and hire. With a list, you can lay down the pros and cons of each company and make an informed decision in the long run. Ask yourself what the most crucial factors that make your potential exterior painter are? Does the company work with other contractors, such as a roofing contractor? Is the pricing within your budget? What about the reputation of the company? When you find answers to these questions working with a reputable painting contractor becomes possible.
Referrals and recommendations are also a good way of knowing more about the outdoor painting company you wish to work with. This is also the best way to access great contractors and guarantee better results in your project. Previous clients are the best lot from which you can get more insight about the company and their painting services.
Always Ask the Right Questions
After creating a list of the companies you can approach for your exterior painting project, you should seek to know more by asking the right questions. Get in touch with the company or the contractor through phone calls, email, or chat. The answers you get will help you find the satisfaction you are looking for. It also gives you a chance to reconsider your options and look for other professionals in the market. Let the contractor tell you about some of the commercial design build they did before. Ask about the best and affordable products that suit your project. Seek to understand if the company provides insurance to their workers and how long they have been operational. The more credible answers you get, the easier it becomes to meet your expectations.
When it comes to outdoor home improvement, you must know the areas to work on. While it can be overwhelming handling the needs of your home at a go, you can alternatively work on it section by section. The shutters and the fences are among the areas where you can comfortably work on. This, however, means looking for the right professional to work with. With the many outdoor painting companies available, the chances of finding the right one are higher only if you utilize the right avenue. Having the right information and tips will go a long way in helping you find the right exterior painter and get the best results. You should put into consideration the above tips and get to meet expectations.