Summer Services and Projects to Improve Your Home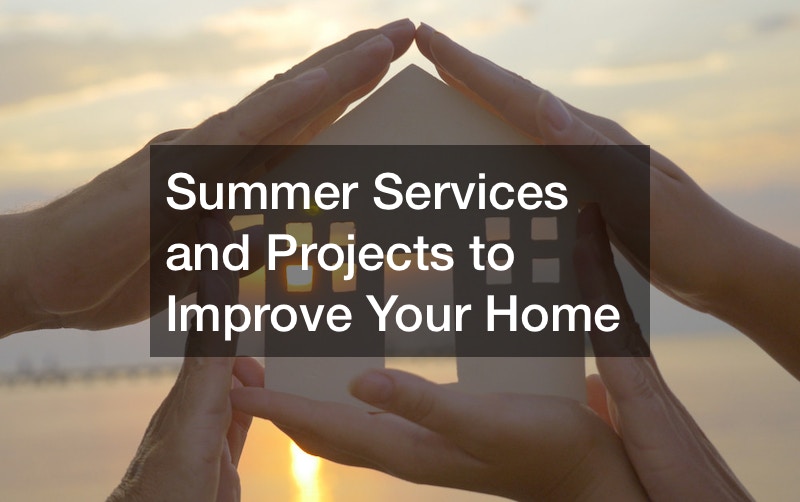 Summer Services and Projects to Improve Your Home

Summer means spending time outdoors and having fun with family and friends. The warm weather and longer days are also perfect for completing the much-needed home improvements around your property. If you want to spruce up your home this season, below are some top ideas to consider and the summer services you can hire.
Make Off-Season Repairs
According to a survey by HomeLight, summer is one of the busiest seasons for home improvement. After all, many other homeowners will take advantage of conducive conditions to update their homes. Unfortunately, this also means that many summer services will likely be expensive. Nonetheless, you can improve your home and keep the costs down by investing in off-season repairs and revamps.
Servicing your furnace is one of the top off-season projects you can handle this summer. With most people focused on their air conditioners, you'll have an easier time finding a reliable furnace repair contractor. On top of that, you can get a good deal on your furnace repair. But more importantly, fixing your heating system in summer will ensure your home is ready for the upcoming cold months.
You can also invest in off-season projects in summer to prepare your home for the coming seasons. For example, you can install or improve the insulation and seal the air leaks, ensuring your house stays warm and comfortable when the temperature drops. Another excellent idea is to clean, repair, or replace your gutters and downspouts to protect your property once it rains heavily.
Make Your Home Safe
Your home should be a haven where your family and guests can relax without any worries. Therefore, you should invest in various summer services that can help make this a reality. And as a bonus, home safety improvements can protect your house and belongings from damage, thus safeguarding your investment.
One of the best projects you can carry out this summer is to remove hazardous materials from your home. This includes mold, asbestos, lead & other heavy metals, radon, and others that could seriously threaten your family's health and safety. Unfortunately, most of these materials are too dangerous to handle alone. Therefore, consider hiring professionals, for example, an asbestos removal company.
Securing your property from unauthorized individuals is another excellent idea for keeping your home safe this summer. According to the Office of Justice Programs, around 3.7 million home invasions occur yearly, and in several of these crimes, household members are often victims of violence. So, to protect your family, you can invest in home security projects like installing CCTV cameras and an alarm system. Other excellent ideas include securing your doors & windows, installing a fence, and improving landscape lighting.
Make Stylish Improvements
The summer months are famous for being vibrant. Therefore, you should take advantage of this to give your house a cosmetic facelift, ensuring it matches the season's fun, colorful, and inviting atmosphere. The good news is that there are several summer services you can invest in towards this.
One of the top ways to make your home more stylish is by painting it. A fresh coat of paint can improve the look and feel of your home, making it more attractive, vibrant, and inviting. According to a Zillow Survey, some paint colors could even improve your home's value, on top of improving its appeal.
Improving the lighting is another project that can make your home brighter and more vibrant. You can upgrade the lighting with new light fixtures and windows. And as a bonus, both the windows and light fixtures can serve as design features that help to make your home appear more elegant.
Several other summer projects can help to improve the stylishness of your home. For example, installing a custom door on the front porch can significantly enhance your property's curb appeal. Other excellent ideas include power washing exterior surfaces, building a fireplace, and planting a flower bed.
Make Some Upgrades
Upgrades are another excellent way you can improve your home. With the right summer services, you can enhance your house's functionality, comfort, convenience, aesthetic appeal, safety, and other aspects. And the best part is, there's no shortage of areas in your home that you can update.
Windows and doors are two of your home's top features to upgrade this summer. Replacing the entry doors or installing new garage doors can help to improve your home's curb appeal, safety, and security. Likewise, replacing the windows can greatly enhance your home's aesthetics, safety, and security. In addition, according to the Department of Energy, window upgrades can reduce energy loss by up to 30%.
Flooring is another area you can consider when upgrading your home. For example, you can install a new floor, which can help improve your home's attractiveness, functionality, comfort, and value. Even with a limited budget, simple updates like refinishing, repainting, or applying a new coating on your floors can help to transform your otherwise dull home into a bright space. You could also update the flooring in one area, for example, the kitchen; this can still make a huge difference in your home.
Add Fun Amenities
Summer is supposed to be about enjoying the outdoors and having fun with your family. Therefore, even as you hire summer services to improve your home, you shouldn't forget to add fun amenities. These can help transform your home into a paradise, and your family and any guests you host will surely thank you for it.
One of the top fun amenities you can add to your home is a swimming pool; it provides an ideal space for relaxing, bonding with family, and entertaining guests. You can choose between an in-ground or above-ground pool, depending on your budget. You could also make your pool area more fun and stylish by hiring a local hot tub manufacturer to install a swim spa. This can allow your family and guests to continue having fun outdoors long into the night.
Installing outdoor furniture is another excellent project you can invest in this summer. Adding some sitting area on your patio, swimming pool area, in the garden, or under the trees can give your family a space to enjoy the warm weather. You could also add some outdoor dining area, allowing your family and guests to enjoy an al fresco dining experience all summer.
Use Alternative Energy
According to the International Energy Agency, cooling accounts for nearly 20% of a home's energy bills. The cooling costs can even be higher during the summer when temperatures are extremely high. One of the ways you can bring these costs down is by investing in an alternative green energy source.
Solar is one of the top alternative energy sources for summer. There's plenty of sunshine and the days are usually longer. Therefore, hiring a solar installation service will give you access to a lot of energy to cut down on utility bills.
Wind turbine installation is another one of the top summer services you can hire for your alternative energy needs. While winds are likely to be less intense during this season, you can still harvest decent amounts of energy. Furthermore, you'll have a reliable green energy source you can rely on as the temperature drops.
A mini hydro power plant is another alternative energy source you can invest in if there's a flowing water body nearby. You could also use biogas and other renewable biomass fuels for heating or electric generation. These energy sources can help to make your home more sustainable and offset your monthly energy bills.
Finish Old Projects
Did you abandon an old project because of time constraints or issues like budget? The summer months are the perfect time for you to complete it. Besides old projects, you can hire summer services to tackle delayed home repairs or renovations you've been dreaming about.
The garage is one of the top old projects you can invest in for the summer. Some top ideas for finishing the space are adding insulation, fire protection, and moisture control. You can also add finishing touches to the flooring, ceiling, and walls, especially if you intend to convert the garage into a living space. Lastly, you should hire a garage door repair service to fix any outstanding issues with the door.
The basement and attic are two top projects you can tackle in the summer. Like with the garage, finishing them can provide you with lots of usable space you could use as an extra bedroom, gym, gaming room, etc. In addition, according to HouseLogic, basements and attics have a high ROI; thus, finishing them can help add value to your home. This can be useful if you plan to sell or refinance your mortgage.
Add More Storage
The importance of storage space in a home cannot be overstated. First, your home's functionality and appeal can be severely affected due to inadequate room. In addition, according to eXp Realty, insufficient space can also affect the value of your house. Therefore, storage space construction is another of the top summer services you can hire to improve your home.
You can invest in several projects that can add space to your home. For example, you can install more cabinets and shelves in the kitchen, living room, dining room, and bathroom. This can help to improve the functionality and appeal of these rooms greatly. Another excellent idea is to convert unused space, such as a garage, basement, and attic. You can also utilize idle space: under the staircase and bare walls.
When building extra space, it's also a good idea to consider outdoor storage solutions, especially since you'll spend so much time outside your home. Some top ideas for extra outdoor space include shelves, hanging hooks, storage benches, and a garden shed. However, you can also invest in something bigger if you have more storage needs, for example, by hiring a pole barn builder to install a barn on your property.
Get Around Your Property
Do you own a farmhouse or a large property? Getting around can be a huge chore, especially when carrying heavy items in hot temperatures. Therefore, investing in transportation is another excellent idea if you're searching for more ways to improve your home this summer.
You can choose from several solutions depending on the size of your property, terrain, budget, preference, and other factors. Some good options are all-terrain vehicles, golf carts, lawnmowers with a cart, electric bicycles, scooters, motorbikes, farm trucks, and more. Additionally, you'll need to invest in maintenance, for example, by hiring a golf cart maintenance service to keep your golf carts in top shape.
When investing in transportation, you must also ensure that you have good surfaces for moving around. This will help to guarantee smoother movement and less wear and tear on your transport machines. So, at the very least, you should hire land-clearing services to create smooth paths.
If you have the budget, you can invest in other summer services like driveway, pavement, and walkway installation. You'll also have to hire regular maintenance services to maintain these surfaces. And as a bonus, maintaining them will help to improve your home's curb appeal.
Transform Your Lawn
The lawn is essential to your home, especially its curb appeal. Besides the aesthetic appeal, a well-kept yard can give your family a great playing and relaxation space. On top of that, the lawn can greatly impact your home's value; according to Trees.com, a neglected law can cause a property to depreciate by up to 30%.
Given its importance, lawn care is another of the top summer services you can invest in this summer. You'll need to hire lawn mowing, fertilization, irrigation, and pest & weed control services. These solutions will encourage the vigorous growth of your lawn and improve the turf's resistance to extreme summer conditions.
Besides lawn care, you should invest in other services to keep your yard looking great. For example, you can hire tree care services, which can help to keep your yard looking nice and great. You might also need a professional landscape to care for other green spaces, for example, your flower garden.
Hardscaping solutions are another excellent idea that can transform your outdoors into a paradise. For example, you could hire a stamped concrete company to install concrete pavement or to edge out your lawn. This can create a beautiful contrast between the hardscape surfaces and the lush green spaces.
The summer season provides the perfect conditions for various home improvement projects, from simple updates to major renovations. It's also the ideal time to prepare your home for the upcoming weather changes during the fall and winter seasons. So, if you're looking to transform your home, the above are some top summer services you should consider hiring.