6 Ways To Decorate Your Dentistry Office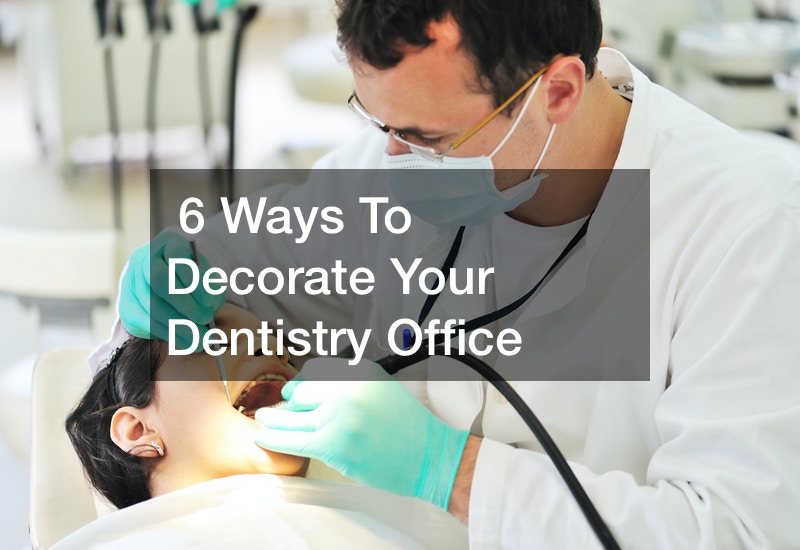 6 Ways To Decorate Your Dentistry Office

Opening up a new dental office is an exciting experience and should provide you with a great career. However, it is vital to make sure that you decorate your dentist's office in a way that soothes your patients and which also expresses your personality and your interests at the same time.
Therefore, it is crucial to know things in a dentist office you can utilize to stand out to make sense for your needs. The growing number of different design elements possible for this situation make it an exciting time to be a dentist, particularly for those who love looking great.
1. Attractive Wooden Doors
When finding things in a dentist office that make sense for your decorative needs, it is vital to decide if you want a modern or traditional look. Those who go for a more conventional look can produce a surprising array of different cool looks that make their office enjoyable to various professionals.
For instance, you can change your doors and other design elements to feel more wooden and exciting. Birch wood doors are an increasingly popular option for many offices, particularly those in more rural areas who want to emphasize this element. Other elements to consider include:
Choose one or more of these decorative options, and you can make your office more appealing to yourself and those who visit. Just as crucially, it should be possible to make your home more exciting and engaging, giving you the chance to create a design that works for your needs.
Just as importantly, you can use this design upgrade as a base for the rest of your unique office design aspects. So please pay attention to these elements, balance them properly, do what you can to engage with your environment, and make your patients interested in what you have to offer them as a business.
2. Interesting Local Decor
When you're opening up your dentist office, there's a good chance you may be moving to a new community or attempting to integrate into a new neighborhood. This situation is often challenging if you're not from an area and feel uncomfortable adding yourself to its culture.
That said, there are various decorations that you can add to your office to make this experience more enjoyable. This step is wise because it allows you to create an excellent look for your office that others will like and makes integration easier. These steps include adding things like:
The idea behind this approach is to make your office appear more local and attractive to those who live in your service area. As you open your office and start your family, there's a good chance that you might end up integrating even more into your neighborhood and adding more designs to the office.
So don't hesitate to be a little flexible here because you can usually find items that meet your needs without costing a lot of money. Go to various thrift shops or usual stores in the area and find things that seem to make sense, and install them throughout your office to make it friendly to the locals.
3. Gorgeous Rugs and Interior Upgrades
If you're willing to spend a little money, there are many upgrades that you can do to your office to make it a more attractive place to work. These options are a bit upper class and designed to appeal to a broad range of people in various ways, making your office appealing to everyone.
Thankfully, there should be many options from which you can choose here. Many people and dentists will have different tastes, meaning that you'll have to work to find options that meet your needs. Doing so will give you the look that you want and deserve with items like:
When choosing things in a dentist office to upgrade in this way, it is crucial to pay attention to your budget, including how much money you have to spend and how spending it will affect your bottom line. Such considerations will help to minimize needlessly expensive upgrades.
Some dentists may find it easier to upgrade things in a dentist office in a staggered fashion. For instance, they may enjoy upgrading their windows first, moving on to their flooring, and then going to the walls. Whatever option you choose, make sure that you do everything to the highest quality.
4. Seasonal Changes
Every year, your office goes through many changes to make it an interesting place to visit and work. You can reflect these changes by upgrading your decorations and the things in your office as the seasons progress. Doing so will create a constantly changing environment your patients will enjoy.
Thankfully, it shouldn't be too hard to change the interior of your office to reflect the seasons. Of course, different things will need to be brought in every few months, but these changes help make your office feel more alive and enjoyable. Just a few things to consider when choosing these things include:
It isn't a bad idea to buy several items and change them throughout the year, keeping them permanently in your office storage area to make upgrades easier. In addition, your secretaries and dental assistants will often enjoy doing this type of decoration as a change from routine work.
And it might also be a fun thing for your younger patients to experience, including giving them various gifts after each visit that reflect their trip. In this way, they'll be more comfortable in your office and may not cause as much fuss when their parents tell them that it is time to see the dentist.
5. Themed Office Changes
If you want to create a unique total-office upgrade for your practice, you can consider themed office upgrades. Themes have become a popular way to focus the things in a dentist office to make decorative sense. The various themes that you can choose will vary on many factors.
For example, you must balance your interests with those of the community and try to find something that appeals to both. But, then, it is crucial to take into account your reputation and how specific themes may impact it. Just a few options that you may want to consider here include:
When deciding on a theme, consider things like your budget, the changes you need to make to your interior and exterior, and your skills as a builder. Of course, there's a perfect chance that you're going to have to hire a professional to handle at least a few of these steps for you to get them right.
Even more importantly, you must make sure that your theme is something that you're going to want for a while. Temporary themes are available and inexpensive but changing too often may seem silly. It is usually a good idea to center your office on the themes and buy into them entirely.
6. More Neutral Styles
If themes sound a bit too much for your office and you want to make it seem more professional, there are many neutral options that you can choose. This option focuses on creating a calming atmosphere for your office, making it feel like anywhere else in a person's home or life.
When choosing a neutral style for your office, it is essential to know what design elements are likely a great option to consider. The basic idea here is to enhance the professionalism of your office and make it more comfortable for your patients. Just a few options to consider here include:
When picking the things in a dentist office you want to include in these steps, make sure that you pay attention to your furniture, the paintings on the wall, the secretary's area, tables for books, and anything else that must be upgraded to keep your facility looking as professional as possible.
The nice thing about these neutral styles is that they are usually relatively easy to upgrade. Since they are so simple in design and easy to tweak and adjust for other colors and designs, it shouldn't be hard for many people to get the increased look and appearance that they want for their dental office.
Decorating Your Office in an Appealing Way
As you can see, the things in a dentist office that help it stand out will vary according to multiple elements. Therefore, it is vital to take the time to understand each of these factors and balance them to make sense for your needs. Doing so will cut down on needless expenses.
Just as importantly, you need to make sure that you work with a team that feels professional for your needs and capable of handling any element of your upgrades to ensure that it goes as smoothly as possible for your needs. Many different experts may be needed when adding these renovations.