Interior Design Notes to Remember for Your Next Project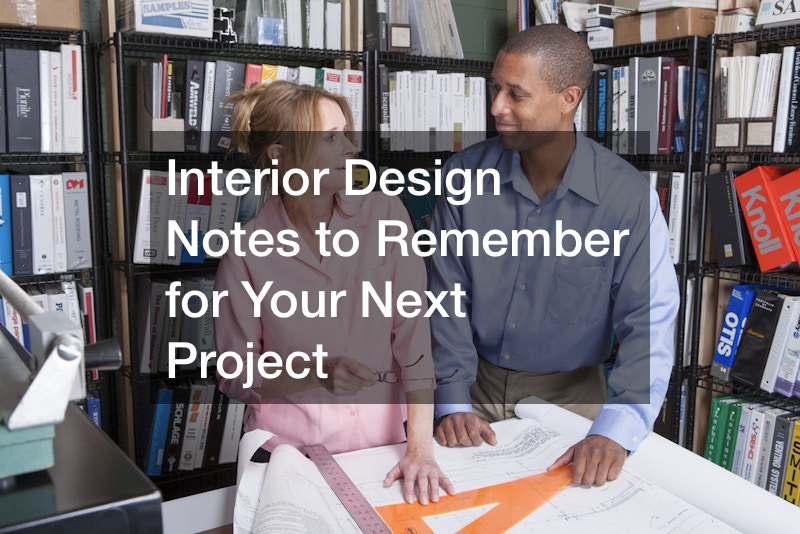 Interior Design Notes to Remember for Your Next Project

Interior design is typically done with the aim of taking a plain and boring space to the next level in terms of comfort and appearance. That said, it's important to have some interior design notes that guide you on each project. This is a great way to make things easier for you and also help maintain uniformity in your work. Here's a helpful outline of some of the most important interior design notes to keep in mind for your next project so that you can practically revolutionize your processes and outcomes.
How to Scale Right
The first item that you need to have in your interior design notes is how to scale right for various projects. This is an important detail to learn because home construction typically deals with different sizes of homes and other spaces. The better you know how to scale the various elements in a project, the more effective the outcomes that you get are bound to be. Scaling generally involves dealing with different pieces and ensuring that none of them look out of place. Once you're done with a space, nothing should appear too small or too large for the space designated for it.
One of the things that can help you with scaling is understanding how to work with angles and colors. You should know the effects that every element of interior design has on a space. That said, take time to figure out these details and understand that what works for one space may not necessarily work for another. This is something that you need to apply to every detail of interior design, including wallpaper whenever you use it. When you have this worked out, your projects will be appealing and very comfortable to the eyes.
What Lighting Works Best
Next, remember that you can get different outcomes from using different types of lighting. This means that it's important to decide the direction that you'd like to take with lighting up different spaces. When you understand this best, you'll be in a position to tell if, for instance, you need certain window coverings services for various interior areas. Learning how to use lighting to your advantage as a designer is clearly an important item to add to your interior design notes.
Once you know the impact that lighting has in a space, you should explore all the options that are available. Among these are natural lighting, ambient lighting, and direct lighting. You can also add accessories like light dimmers to make a space more versatile in terms of the ways you can light it up. Don't forget that the fixtures you use are an important part of the overall outcome. As such, choose the right fixtures for each space, knowing when it's best to make a statement or keep things modest.
The Right Color Palette for Each Project
Color is another detail that plays an important role as far as design is concerned. It can have various effects on a space, for instance, it can make a space feel smaller than it actually is. That said, take time to think about interior painting based on the specifics of each space that you end up dealing with. Your interior design notes should have a rough outline of the effects that various color combinations could have on different spaces. Keep in mind that many things are going to impact the best colors and shades to use on various projects, so use them as a guide.
Some of the things that will impact the colors that you choose include the size of the space, the type and material of furniture in the space, the floor of the space, and the lighting that will be used in the space. As such, it's clear that it may be more effective to choose the colors for a space once you know these other details. When you think about it, it would be a lot easier to look for a given color and shade to paint the walls than it would be to change the other elements in the space. That said, you can start with a rough idea of the color you'd like to use, but leave your options open until the more significant items are out of the way.
How to Pick Accent Pieces
Another important item to include in your interior design notes is the right way to pick accent pieces. This includes the size, color, material, and the actual type of accent piece that you choose. The right one should make a statement in the space in which it's used. It should also strike the right balance in terms of the attention that it gets in a given space. This means that it shouldn't stand out and overpower everything else around it unless it's the main focus of the space by design. It should also not blend too much with the other elements, which may render its function useless.
The right accent pieces depend on many details, including the personality that the space should exude, how much space there is for the piece in question, and whether it's meant to be permanent or movable. This means that the best accent pieces may take creativity to find so that they can be unique for each space and yet fit accordingly. To this end, keep an open mind while looking for an accent piece because you can find one anywhere and in various states, including new and gently used.
Balancing Function with Appeal
Your interior design notes should help you ensure that function and appeal are well-balanced in order to get the best outcome. This means that it may take a bit of trial and error before you can figure out the best decision. For instance, when thinking of the flooring contractors you may need to hire, you should know the best floor for a space. This will be dictated by things like the color scheme and overall theme of a given space, the climate of the area, and even how much traffic this space typically receives. To make the best call, it's a good idea to use the function of the space as the main guide.
Once you settle on something that you feel is going to provide the best outcome in terms of structure, you can fine-tune the details to make it fit the space better. For most interior space elements, there are going to be a number of cosmetic variations. This means that you're going to be able to choose something that fits best based on the physical impact that it will have on the space in question. When you do this, you'll have made sure that the space is comfortable for its designated use and that it also looks amazing.
Deciding When More is Actually Less
In your interior design notes, never forget that sometimes, less is actually more. This means that if, for instance, you have an empty space that you're wondering about the best way to fill, you may achieve an amazing effect by leaving it empty. Along the same lines, you can also choose a smaller element to use in a given space as opposed to going for a larger alternative. Ensuring that you have room in the interior spaces that you design makes it easier for you to be able to play around with the various elements you use, and this can be quite beneficial to you.
The same case applies to color. If you're faced with making the call between a multicolored element in a room that's already quite colorful, it's best to keep things as neutral as possible. You would also have an easier time working on the finishing of a given space if you start out with calm and neutral shades. This will give you a relatively easier canvas to make any necessary additions to. When the project is done and you feel like the space needs some additional color, there are a number of steps that you can take to introduce some color. On the other hand, it's not particularly easy to try and neutralize a space that turns out to be overly colorful.
What Materials Can Be Paired Together
You're bound to work with different materials in the course of designing interiors. This is the main reason why you need to learn a lot about perfect pairings. To do this, seek out various materials you're likely to come across and figure out how they can be paired together for the best outcome. This way, you're likely to get more appealing results from the projects that you do as you mix complementary materials together for maximum synchrony. This is something that you'll need to know regardless of the specific project that you work on.
For instance, when coming up with kitchen cabinet designs, you should understand how the material used on the panels will look when paired with accessories of various materials. This knowledge should be a part of your interior design notes because it can impact the end result of the projects that you do. While learning more about material pairings, you'll realize that sometimes contrast works, while other times it doesn't and should therefore be avoided.
How to Stay Within Budget
Remember that it's crucial for you to learn how to stay within budget regardless of the project that you're working on. Failure to do this will leave you with a number of unfinished projects and dissatisfied clients who may brand you as untrustworthy and unprofessional. This blow to your reputation can cost you a lot of business, so make sure that project budgeting is a part of your interior design notes. When you know how to stay within the confines of a set budget, you'll be able to deliver what you promise more often than not.
To know how to keep a project within budget, you should know about details like labor and material costs. With this information, it should be easy for you to calculate possible costs based on the area that you need to work on. For instance, you can offer kitchen design services that will ensure the entire space looks professionally designed. This is as opposed to starting with luxurious, high-end installations only to change gears to low-end elements to be able to finish the project.
How to Stay Consistent
Consistency is important for any interior designer worth their salt. That's because it's going to help you create a name for yourself and solidify your brand as an interior design specialist. With consistency, people will be able to tell whether you're the perfect person for a project that they have based on what they need and what you're known for. Additionally, you can build an amazing relationship with vendors and other businesses in the process, including home furniture stores. This is a sure way to help solidify your business and leave a mark in the industry.
What the Specific Requirements of the Project Are
Last but not least, you need to be in a position to tell what a project's specific requirements are. This means that you should be a great listener, and if anything is unclear, you shouldn't hesitate to seek clarification for it. Come up with an effective communication strategy that makes it easy for you to get all the information that you need about a given project as effectively as possible. This is going to help you start on the right note and avoid running into issues later on.
For instance, if you're working on a shower, it's good to know the kind of bathroom shower door that your client prefers, if they need one at all. Similarly, if you're tasked with a sink replacement, you should know the size, material, and finishing that the client would like. Don't forget to add the budget of any project that you work on to the project requirements you should keep in mind. This is a skill that can make it possible for you to deliver above and beyond what's expected more often than not.
These are some of the interior home design notes that you need to keep in mind. They can go a long way towards making all future projects that you take on more satisfactory for you as well as for your client. With practice, you can become an amazing interior designer whose services are in high demand season in, season out.