Master Bedroom Makeover Ideas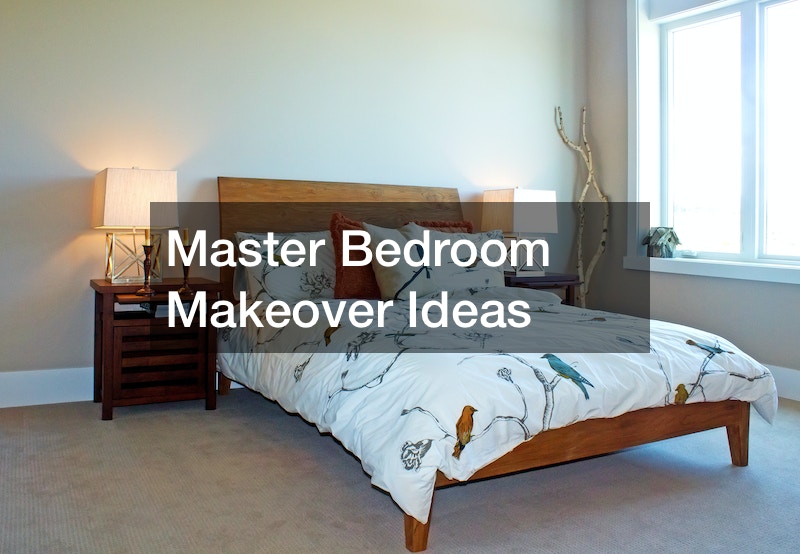 Master Bedroom Makeover Ideas

The master bedroom is usually the last consideration when planning a home refurbishing project. Homeowners do not consider it a priority because it is a private area with restricted access. Despite this, it is crucial to note that redesigning your bedroom is critical in the redesigning process. Unlike other parts of your home, master bedroom transformation requires little effort. Just changing things around will make a difference in the design process.
The fundamental idea is to optimize your bedroom space. Making intentional changes will make your minimalistic bedroom into a breathtaking and inspiring space. Creating modern designs involves a vision board of what you want the area to look like and how to elaborate on the changes. Minimalist design tips include identifying the placement and improving symmetry. You can also throw in an open walkway to facilitate room for more usable space.
Top Reasons for a Master Bedroom Makeover
Master bedroom remodeling is a capital-intensive and time-consuming process. While it may seem like a stressful undertaking, it has its perks. The process requires professional consultation and plenty of brainstorming. Despite all these challenges, it is still a necessary undertaking. Here are some fundamental reasons why you should remodel your bedroom.
Eliminating Clutter
Most master bedrooms accumulate unnecessary items over time. These items crowd the bedroom and reduce the amount of usable space. Remodeling helps to eliminate things that have no utility value. It may be old furniture or clothes you no longer where. The purpose of remodeling is to create a tidy and beautiful space. Aesthetics is a critical feature in master bedroom design. While it may not be seen regularly, it is an important space that complements the rest of your house.
Comfort Enhancement
Renovation is synonymous with improving comfort. A bedroom makeover will enhance the look and feel of your personal space. You will not have to worry about tripping over furniture or cleaning up. Opening up this space will allow you to identify areas that need improvement and make the appropriate changes. Remodeling also enables you to customize your bedroom according to your specific needs. You can add or eliminate items depending on what you want to achieve.
Maximize Room Space
A master bedroom makeover allows you to create room for improvement. The extra spaces increase your remodeling options and make the refurbishing process easier. These improvements also increase storage spaces and enable you to reinvent the extra space. You can improve aesthetics by changing the furniture and utilizing the room better. The primary objective is to make your bedroom a safe space that is appealing and offers top-tier functionality. It facilitates a system that accommodates multifunctional solutions and increases your design options.
Critical Considerations
The primary purpose of your master bedroom is functionality. Unlike other bedrooms, this space requires more room and better features. The extra room can include storage and laundry features. It is a self-contained space within your home that can function as a home office or a retreat from daily stresses. These facts emphasize the need for a well-planned strategy and a lot of forethought.
Before starting a master bedroom makeover, there are a few crucial considerations. First, what are the functional areas you want to improve or redesign? Remember that the objective is functionality and comfort. Another factor is how to achieve your dream bedroom without exceeding your budget. You do not have to go bankrupt in the process. There are plenty of low-cost makeover options on the market that will be just as effective. Establish a ballpark figure of how much you want to spend and stick to the plan.
A critical consideration is to establish what you want. Evaluating design options and identifying an element that fits your needs is the best way to achieve the best results. This process involves brainstorming and comparing makeover options based on consultation and idea exchanges. Choose the desired layout and find a professional contractor to advise you on the best way forward. Determine which essential functions to prioritize. Do you want more room to maneuver or just some extra laundry space? These considerations will help you establish creative ways to improve the bedroom.
It is also crucial to outline any new amenities you may want to add. You may want to eliminate old furniture, create a new theme or repaint the walls. Participate in the process to ensure the final product matches your blueprints. Most homeowners leave the design work to remodeling contractors. While they are professionals, they may not have the same outlook as the homeowner. Ensure you are available at every stage to approve the design options and make critical contributions. Every project needs a clear line of communication. To eliminate the risk of mistakes, ensure you have a working relationship with your contractor. Ask questions where necessary and offer suggestions. Note that you are the most valuable resource in this project.
Top-Tier Master Bedroom Makeover Ideas
Remodeling your bedroom requires quality and timeless design. This process is capital intensive and requires a solution that will offer longevity. You do not want a makeover that has to be changed every few months. It has to be something that will last for as long as possible. Some quality tips you should consider include.
Flooring
The most notable part of the master bedroom makeover project is the flooring. It is critical when developing a theme and the atmosphere you want to achieve. Master bedroom flooring needs some level of uniqueness. Whether laminate, vinyl, or hardwood, it has to blend in with other parts of the bedroom and create harmony. The solution you choose will depend on the budget and style. Hardwood floors are a classic option. They build character, improve aesthetics and add warmth. This solution is the best because it makes your bedroom beautiful and increases property value. It also increases desirability and is a popular choice for many homeowners. A hardwood floor offers noise reduction and comfort and gives your bedroom a classic design. Hardwood flooring supplies are readily available in many stores and are very affordable.
Another option you should consider is luxury vinyl flooring. This solution provides a reliable, pocket-friendly, and stylish finish. It is easy to install and does not damage easily. Carpeting is also an option if you want a simple solution. With the right carpet cleaner service, you can get your floor looking good as new in no time. You can also get a decent wall-to-wall carpet at a low cost if you are on a strict budget.
Master Bedroom Doors
Finding the perfect door for your master bedroom makeover will be challenging. There are several options and designs for interior doors that you should consider. Establish a vision of the finished product and how your bedroom door will fit into the plan. You need to outline the type of material you want and a style that will complete your interior design in its entirety. The most common option is wood. It may be ply, teak, or PVC. The material has to match the flooring and the walls and be a visual asset. If you are going for durability, lightweight aluminum may be a viable option. Regardless of the material you choose, ensure you factor in the design of your bedroom and what you want to achieve. Consult interior design experts to get some perspective on the most appropriate custom door.
Furniture
Choosing master bedroom furniture will depend primarily on the functionality of the space. Do you want a retreat or a functional office space? To increase storage, you can opt for reclinable drawers or a king headboard. Your office desk can also be equipped with drawers for extra space. The idea is to reduce clutter by increasing storage space using home furniture. Rearranging your existing furniture is a way to increase floor space and create more room. Removing furniture with no utility is also a way to make your bedroom look more spacious. Less is more when redesigning your master bedroom. Only purchase furniture that is a visual asset and complements other elements. Junk removal helps make your space more organized and tidy. It facilitates a less stressful cleaning process and gives you usable space. Furniture is a crucial part of the remodeling process-so select your pieces carefully.
Consider a Fireplace
A fireplace may seem like an expensive addition to your master bedroom, but it is a unique way to fill extra space. This feature adds luxury and creates a focal point in your bedroom. It provides a place to retreat and adds heat during those unforgiving winter months. While most homeowners prefer air conditioning, a fireplace is more convenient and consumes less energy. It lowers your utility bills and improves aesthetics in your home. A fireplace creates a romantic space where you and your loved one can reminisce and enjoy each other's company.
There are several options when it comes to master bedroom fireplaces. Wood burning is a regular option, but it requires a constant supply of firewood. The gas option is more convenient but also increases your utility costs. The best modern solution is the electrical fireplace. It is convenient and risk-free. This solution is environmentally friendly, odorless, and an economical option for budget remodeling. Brands offer a variety of fireplace inserts for sale that offer great value for money. The value added by installing this unit will be worth the investment you put in. It is breathtaking extra feature and one that is safe and durable.
Air Conditioning
Air conditioning is a necessary modern convenience for many households. It facilitates better air quality and makes your home more comfortable. Unlike other utilities, AC units offer several installation options to maximize output. Installing this component in your bedroom will make it a sanctuary for you and your loved one. Air conditioning is crucial in home improvement and helps make your bedroom habitable. These systems can function as insect repellents and eliminate odors. These features improve the quality of sleep. Modern units are pocket friendly and come in different shapes and sizes. AC repair and installation services offer a variety of feature-rich units that will blend perfectly into your master bedroom makeover project.
You can choose from a selection of wall-mounted or ducted air conditioning units. There are also portable units that you can take with you as you move around the house. Movable units come in different varieties and can be placed on your nightstand or office desk. They are battery or electrically operated. When remodeling, you will need to find a suitable location for your AC unit to ensure it does not interfere with the harmony and theme of your bedroom. Expert HVAC services advise you on which placement will achieve the best results. If you want a solution that fits your budget, consult HVAC contractors on the most effective air conditioning systems and what they offer.
Master Bedroom Wall
Remodeling involves a lot of simultaneous operations. Establishing a balance between the walls, floor, and furniture is essential. Achieving this feat is challenging for many homeowners. You may need to repaint your entire wall to fit your design. Establishing the proper wall color requires assistance from interior design experts. Even with a lot of experience, repainting your wall is not recommended as a DIY project. This is because there may be issues behind the original paint that you do not know. Some parts of the wall may also require paint correction. You must consider all these factors before the final product.
There are plenty of options for wall remodeling besides painting. You can opt for paneling, or you can go for top-tier wallpapers. There are several colors and designs that will help improve wall appeal and increase room appeal. These master bedroom makeover ideas will help transform your space into a functional and comfortable living area. The process requires patience, a budget, and an effective plan. Consult specialists on the best and most durable materials to ensure you get value for money.