How to Design a Modern Kitchen on a Budget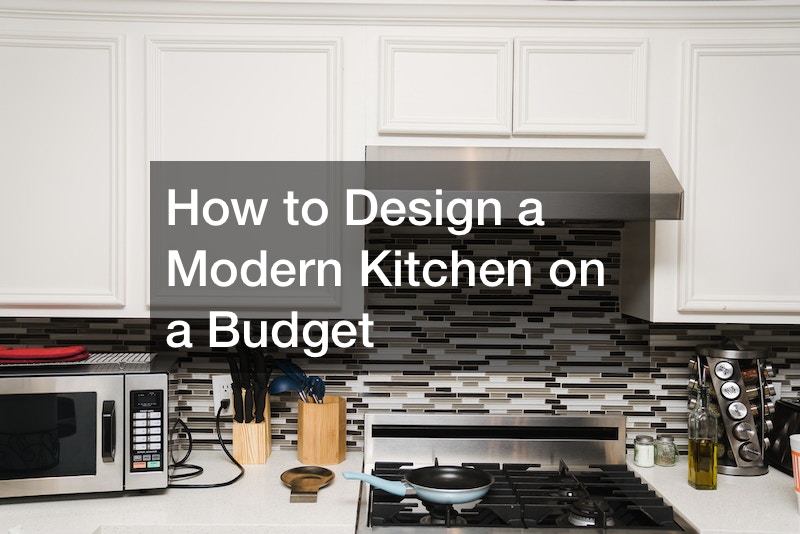 How to Design a Modern Kitchen on a Budget

The kitchen is the heart of the house. Every design decision in the kitchen will directly affect how everyone uses their home. A modern kitchen should therefore be well thought out and tailored to the needs of the people using it. First, consider your budget and the space available in your home. Here are reliable tips on designing a modern kitchen on a budget.
Consider Affordable Countertops
The market for countertops has grown a lot, giving people a wide variety of materials to use. The cost of installation varies from one type to another. You need to choose countertops carefully to match your kitchen surroundings. Countertops made of granite, marble, or even stone are the most popular materials to use in a kitchen nowadays. These materials are very durable and popular but are not very cost-efficient.
For example, if you want to go with granite for your countertops, you will need to install a new grout between each tile. The price for a quartz countertop installation is lower than other stone types despite their high maintenance requirements. Lately, more and more people are going for laminate countertops. They tend to be durable and easy to clean. The installation and maintenance of this type of countertop are relatively cheap. The price for laminate countertops is about the same as standard other stone or marble types.
When choosing a countertop as a design for a modern kitchen on a budget, consider the amount you would spend. For instance, you should choose an installation service whose charges match your budget. While a cheap service might be tempting to choose from, you also need to consider their experience and knowledge in countertop installation. You don't want to spend less money and require repairs after a short while.
There are many advantages of using synthetic wood countertops compared to other materials such as granite or marble. For instance, synthetic countertops are non-porous, which makes them resistant to chemicals and staining, unlike other materials. The best synthetic countertops are also scratch resistant and easy to clean. Furthermore, they are thin and light, which makes them very convenient to install.
Check Your Appliances
A modern kitchen's most typical appliances are the refrigerator and dishwasher. You should always make sure that your kitchen items are up to date. If damaged, hire electrical contractors to make the necessary repairs. A great way to discover which models you have is by checking your local outlet or online. You can also ask friends or family members, as they are usually interested in all types of new appliances. Appliance maintenance plays a vital role in prolonging their lifespan.
Kitchen appliances come in different sizes and prices. Depending on your budget, you can always find one to suit your space. For instance, when designing a kitchen on a budget, ensure that the appliances match the available space. A two-door fridge might appear too large for a small space, while small fridges might appear too small if you have a large kitchen. Therefore, ensure that your fridge's size matches your kitchen's design. You can also pick a stylish model as long as it is functional.
As you choose your kitchen appliances, remember that economic models offer similar features and quality. Before making any decisions, you should know what features are available in different appliance models. For instance, if the price is your top concern, you can settle for a budget brand with low-end components in terms of quality and efficiency. However, if you want the best value for your money, avoid cheap models and buy from a reputable brand instead.
Many brands offer appliances and gadgets to enhance the overall design of your modern kitchen and are usable in multiple places. For instance, choosing brushed nickel units for the exterior of your kitchen will make it stand out among other retro kitchens in your city. When you decide to design your kitchen on a budget, check out the store for new kitchen appliances and gadgets.
Work with Your Kitchen Space
When designing a modern kitchen on a budget, it is important to consider your space. One of the essential considerations is taking measurements before remodeling or installing new cabinets and countertops. Determining the measurements of your countertops will help you decide how to arrange them concerning each other. You can take them yourself or hire someone for this purpose. However, ensure that whoever you hire has the right tools and experience.
Locating your plumbing pipes should be a priority when remodeling. They can affect the placement of your cabinets and countertops. Manufacturers prefer to place the plumbing within a certain distance from the wall for safety reasons. Plumbing pipes should not interfere with other kitchen components like outlets or power sockets.
Your design also depends on how you want your kitchen space to appear. For instance, some people large a minimalist approach when designing a kitchen on a budget. The approach focuses on creating a practical and functional space by eliminating all non-essential elements. The design tends to be very basic, with only simple lines and no fancy details that can make your kitchen appear too crowded. In this case, you will likely spend less time designing various kitchen areas.
The opposite is when you want your kitchen space to appear cozy and friendly. The design concept focuses on comfort and style, featuring trendy décor items like murals or creative lighting solutions. The style will require more time and money, but if you have the budget, you can have a very stylish kitchen on a budget.
Another way to design a kitchen on a budget to suit the available space is by budgeting according to the installation cost. You can choose modular and pre-fabricated kitchen cabinets for an affordable price but still, have them installed by skilled contractors. These are mostly used for commercial kitchens and restaurants, so their price will be higher. A good contractor can design a modern kitchen on a well-organized, functional, and attractive budget.
Work with Your Tastes
When designing a modern kitchen on a budget, consider your personal preferences, such as air conditioning and location. There is no one way to design a kitchen on a budget because everyone's needs and tastes will differ. For instance, if you are not interested in having many storage spaces for your kitchen appliances and dishes, then you might go for minimalist cabinets that are well-organized with good lighting design.
You can also design your kitchen on a budget based on functionality. For instance, if your focus is on food preparation, you can opt for appliances that require basic preparation, like a microwave, an oven, and a dishwasher. Other kitchen components should perform the main tasks. Modern kitchens are usually more functional than beautiful. However, you can have beauty and functionality when designing your kitchen on a budget.
The floor is one of the sections that determine the color scheme of your kitchen. Visualizing floors in your kitchen as a point of focus will help you determine the colors and style you should use. When choosing an affordable flooring service, you should look for trusted brands that offer high-quality flooring at affordable prices. Also, ensure that the concrete contractors are responsive whenever you change your kitchen to accommodate your new appliances or remodeling ideas.
Today, there are many choices regarding modern kitchen design, especially if you want yours to be on a budget. Creating an attractive and functional modern kitchen does not require much money on design. However, you can find modern kitchen designs on a budget by following your tastes.
Designing a modern kitchen on a budget is not an overwhelming task. With the right knowledge and planning, you can design an attractive and functional kitchen space with a very small budget.
Focus on Affordable Plumbing
It will help if you make the necessary repairs when designing a modern kitchen on a budget. Plumbing fixes are one of the major expenses in a kitchen remodeling process, especially when you are on a tight budget. When making repairs, assess your options before you decide if you want to fix the problem yourself or leave it for plumbing contractors.
Plumbing is one of the major designs in your kitchen because it determines the position of the water treatment systems. You can use under-the-counter plumbing or point the system to the nearest water source if your kitchen already has it. If you have any doubts about your plumbing, consult with a plumber for assistance.
Be Creative with Colors
Modern kitchens usually come with a smaller budget compared to other areas in the house. However, that does not mean you should use this space's cheaper and less vibrant colors. Instead, think of creative ways to build color into your modern kitchen. For instance, add pops of color to the space with rose bouquets, accent chairs, lighting fixtures, and accessories. You can also set up a gallery wall on the walls to display your favorite pictures or artwork.
Considering your tight budget, consider how to accommodate your new appliances before designing the cabinets. In your modern kitchen design, you can place a wall with units for a microwave, an oven, and a dishwasher. You might also consider a wall unit with storage spaces for different utensils. Also, consider the lighting design when designing your modern kitchen on a budget.
Kitchen designs can be expensive. Therefore, it is important to ensure that you choose the right countertops, flooring, sinks, and other appliances when creating a modern kitchen on a budget. These are the most expensive kitchen components since they are usually granite and marble. With some creativity, you can design a functional and affordable kitchen based on functionality. For instance, you can go for a granite-top table that is top quality but also affordable.
When it comes to colors, create a color palette with subdued colors in the space to make it look attractive and modern. You can either choose one or two colors or go for a combination of all three colors – red, green, and blue.
Consider Functional Furniture
Kitchen appliances come in all types of shapes, sizes, and functions. Therefore, when designing a modern kitchen on a budget, it is important to consider the right accessories for them and the placement of each one in the space. You might need a small cabinet for the electric kettle and other kitchen essentials, whereas a bigger cabinet is needed for your range.
The same design concept applies when planning the layout of your modern kitchen on a budget. You can choose modular walls that are flexible depending on your appliances' needs or space to maximize their efficiency. When it comes to cabinets, you can opt for under-the-counter and flip-up ones, depending on your needs. You can also use open storage spaces for your kitchen appliances and utensils.
Understand Your Needs
If you are on a tight budget but still want to take care of your kitchen needs, consider doing it yourself. You can either renovate your existing one or build a new one with minor modifications. There are various ways of doing this, and depending on the style you want, you need to choose them per your budget.
When considering your needs, be specific about your budget, and don't check between tasks or projects. For instance, you can factor in the cost of additional lighting or installation for any appliances. Also, remember to include its maintenance costs in your budget so that you don't incur additional expenses due to repairs.
There are many ways to develop a modern kitchen on a budget. However, before you go for any of them, consider your needs and requirements. The most crucial thing you should be aware of is that many design options exist for the same space. Therefore, you can choose something with the same utility but with fewer costs or make modifications with medium cost. You don't want to enter a financial crisis while designing your kitchen.