Tips for Organizing a Child's Small Bedroom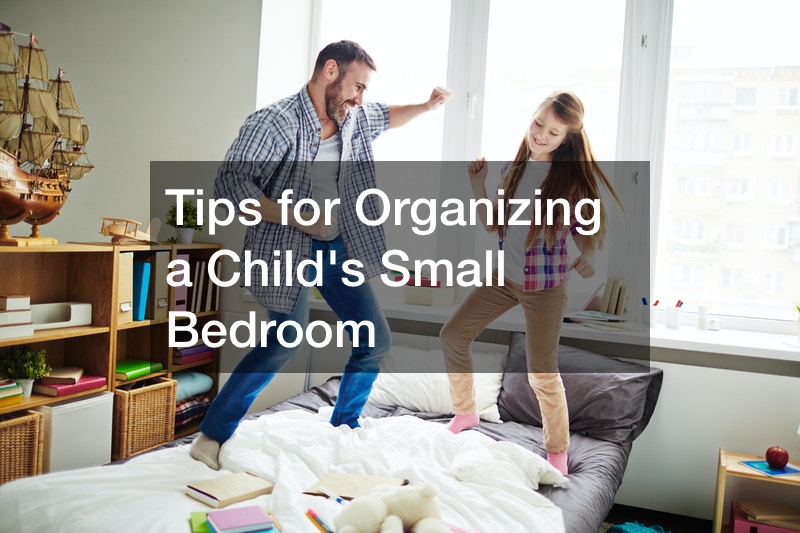 Tips for Organizing a Child's Small Bedroom

Without some proactive steps on your part, children's bedrooms can get out of hand — and that clutter and mess of toys can easily spill out into the other rooms of your home, like the living room, dining room, and kitchen.
While messy kids' bedrooms and messy homes may seem like an ordinary part of parenting, several studies suggest that it is best for you to nip it in the bud if at all possible. Why? Clutter stresses parents out and may ultimately affect children's behavior. According to Apartment Guide, 66% of homeowners say that a dirty, cluttered home "makes them feel stressed or anxious," and that stress can have a negative impact on their parenting. Further, a messy home can make it more difficult for children to focus and possibly even lead to problem behavior. Remember, children thrive off of routine and structure, and that applies to their bedroom and the rooms in your home as well.
Keep the whole family happy. Follow these tips for organizing a child's small bedroom to keep the entire house cleaner and more orderly.
Pick a Theme
Do you need a theme for your child's bedroom? While the answer isn't strictly yes, picking a theme and sticking to it can go a long way to keep your child's room structured and in line. A theme helps eliminate excess decor and toys and keeps clutter to an absolute minimum. Here are some pointers for organizing a child's small bedroom while sticking to a theme.
First, use the theme to choose a paint color. Even parents with the very best intentions may end up with a kid's room with little rhyme or reason if they are not careful. A theme can help you bring it all together and make it a cohesive and relaxing place for your child to sleep and play. Work with home builders, contractors, or professional painters to paint your child's bedroom. For example, if you choose a sea theme, paint your child's room blue or seafoam green. If you choose a mountain or forest theme, paint the walls an earth tone, like green, brown, or blue. To prevent child injuries, keep your child out of the room while professionals paint his or her bedroom.
Next, keep decor strictly to the chosen theme. Appropriate decor for children's bedrooms takes many different forms. You may use family pictures, wall decals, shelves, books, colorful embroidery, and more to liven up your kid's room. It is key, however, to not go overboard. Keep decor within reason by choosing decorative items that are strict to the theme. If your child has a sports-themed room, hang sports flags, apply sports-themed wall decals, and put up a shelf with a signed baseball. Keep any decorations out of theme to an absolute minimum — one to three tops — to prevent the space from appearing cluttered and chaotic.
Finally, use the theme as a starting point to weed out extra toys. Getting kids to donate toys they no longer use can be a challenge. It can be easier if you make it into a game. For example, ask children to donate a set number of toys. Let them choose the toys they can afford to get rid of. For indecisive children, having a theme can help. Reframe the question and ask children to pick out toys they no longer use and that do not align with the theme of their bedroom.
When organizing a child's small bedroom, it is important to have a plan and to execute that plan. To help simplify that process, start with a theme.
For Additional Floor Space, Purchase a Raised Bed
Another tip when organizing a child's small bedroom is to take advantage of all space — including the vertical space in your child's bedroom. To do this, maximize the space by purchasing a raised bed. A raised bed may include a bed on a low, raised platform, a bed on a medium-height platform, or a loft bed.
Platform beds open up the capacity for more storage. Use the additional space for hidden storage for clothes, books, school supplies, or toys. A lofted bed, on the other hand, makes room to do schoolwork, read and relax, play, or even add another bed for your second child or for a child who enjoys sleepovers.
Keep in mind that these beds do come with some restrictions. The Consumer Product Safety Commission (CPSC) and American Academy of Pediatrics (AAP) recommend loft beds and bunk beds only for children ages six and up. Younger children are more likely to fall and injure themselves.
Use the Space Under the Bed
If you choose to install a loft bed in your child's bedroom, use it! One of the best tips for organizing a child's small bedroom is to work with all available space. When you purchase a loft bed, that includes the space under your child's new bed.
Perhaps the most effective use of this space — particularly in recent months — is as a space to put a desk and for children to quietly do their schoolwork. As of November 2020, 65% of families with school-age children reported that their child or children do at least some remote learning. While more and more schools are beginning to open their doors, others are temporarily closing them again as new outbreaks or infections spread through the halls and classrooms. In any event, it is always best to be prepared.
Commercial office desks are utilitarian, practical, and may be available at a discount when sold separately. While it is important for your child to have a space to take part in virtual classes or to do homework, remember to put safety first. If utilizing the space under your child's bed as a workspace requires residential electrical work, hire professionals to eliminate potential fire hazards and to keep your kid's room in line with local building codes.
Map Out the Rest of Their Bedroom
A big part of organizing a child's small bedroom is coming up with a plan. There are few projects that you would enter into blindly. You would not create a new website, for example, without drawing up a plan first. You wouldn't remodel your kitchen without getting a general idea of your preferred design, setting a budget, and getting some estimates. Organizing a child's small bedroom should be no different. Map out the entirety of your child's bedroom before making big changes.
For example, if you install a platform or loft bed, you will take full advantage of the space on that wall and possibly even use some of the wall or walls perpendicular to it. If that is the case, it will probably make the most sense to place other large furniture — like the dresser — on the opposite wall. Map out where any other furniture or large fixtures will go. Account for nightstands, bookshelves, end tables, and/or storage.
Utilize Over-the-Door Hooks As a Space Saver
Once again, organizing a child's small bedroom is about making the best possible use of the space available to you. If you have exhausted all the space on the floor and even the space inside closets, too, you still have options if you need more storage. For example, you can use over-the-door hooks for your child's bedroom door or closet door. They even sell over-the-door organizers for neatly stowing a larger amount of items.
You can use these organizers to store children's shoes, toys, or hats.
Use Functional Cubbies for a Nightstand
Make your nightstand do double duty. Instead of purchasing a nightstand and purchasing organizational cubbies for your child, use organizational shelves or cubbies as both. This will help you conserve space and meet all your child's needs when organizing a child's small bedroom.
More likely than not, you have seen the trendy, organizational shelving units that include four to nine cubbies with removable storage bins. Use the cubbies themselves for storage, and place any other essentials — like a lamp and alarm clock — on top of the unit.
Remember to be as practical and resourceful as possible when it comes to limited space inside children's bedrooms. Just like you wouldn't schedule separate appointments for children's dental care, one to professionally clean their teeth and another to teach them how to floss, it is similarly inefficient to have too many furnishings in a small space. Think about what items you can use for multiple purposes.
Prepare Your Child's Room For All Weather
Of course, when organizing a child's small bedroom, there are some practical considerations to take into account that you may not initially think of. In addition to space and storage, it is also useful to consider the temperature and comfort of your child's bedroom. Here are some pointers.
First, check on the AC. To manipulate the temperature and comfort level inside your child's bedroom, start with air conditioning. Every six months, schedule an AC inspection or AC tune-up with a trusted AC repair service. During this inspection, a professional will change your air filter to ensure the best overall indoor air quality and lookout for signs of any potential problems. If they see something that needs your attention, they will let you know it. Ensuring that the heating and cooling is running efficiently in your entire home will ensure that it is running efficiently in your child's room as well.
Second, use the right window treatments. Part of organizing a child's small bedroom should be about your child's comfort — and that means organizing or designing their room to be an optimal temperature. One of the best ways to do that is to be particularly careful when picking out window treatments for children's bedrooms. Make sure you have blinds installed in your child's bedroom and keep them closed as often as possible. Keeping blinds closed has the potential to fend off 30% of excess heat inside your home, according to Family Handyman. Reduce energy use and extra heat in your home even further by investing in blackout curtains. Consumer Reports reveals that blackout curtains can reduce heat in your home by an additional 33%. Even blackout curtains in pale and neutral colors extend considerable cooling- and energy-savings benefits.
Finally, change the light bulbs and buy new sheets. Managing the temperature in your child's bedroom doesn't have to be complicated. Keep it simple by swapping out your old light bulbs and buying your child new sheets. If you are using dated, incandescent bulbs, know that these light bulbs waste 90% of the energy they use — and that energy is released via heat, not light. Switch to LED bulbs to lower the temperature in your child's room and to lower your monthly utility bills as well. During warm months, put cotton or bamboo sheets on your child's bed. These materials do not trap body heat. In fact, they help your child stay cool.
Don't Forget About Your Child's Bathroom!
If your child has his or her own bathroom, keeping it clean is an essential part of decluttering and organizing your home.
Start with a deep clean. Before reorganizing children's bathrooms, clean. Throw away any trash and consider donating any items your child no longer needs. Clean the room from top to bottom. Scrub the toothpaste off bathroom mirrors, and don't forget to fix clogged drains.
Next, label everything. Do you want your child to put things back in their place? While it may be obvious to you where things go, it may not be quite as plain to your child. Label baskets or bins to help make sure everyone is on the same page. For example, designate a bin for shower accessories and another for hair products.
Finally, use storage bins and buy a nightlight and step stool. Instead of leaving lotions, soaps, and creams haphazardly arranged on the countertop, use a storage bin or a large, decorative container to keep these items all in one place. Help your child safely brush their teeth and wash their hands with a step stool, and install a motion sensor nightlight for late-night bathroom trips.
Organizing a child's small bedroom will make them more comfortable, more focused, and may even improve their behavior. Get started using the list above.