6 Steps to Take to Prepare Your Home for Summer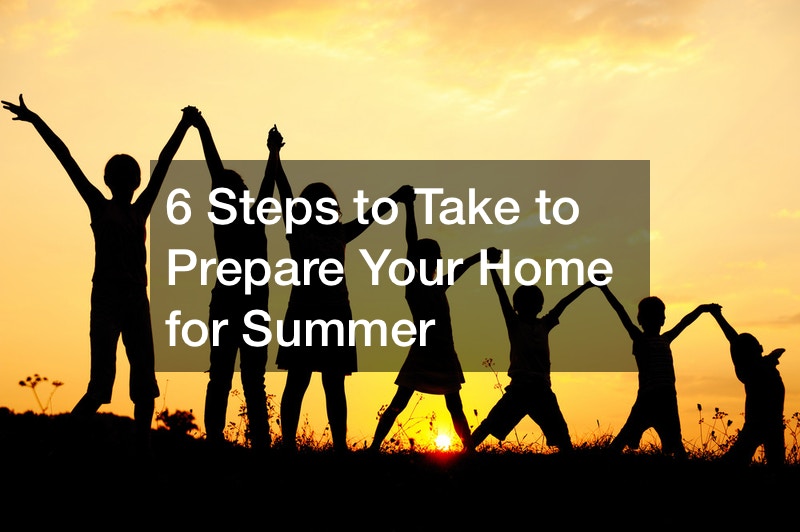 6 Steps to Take to Prepare Your Home for Summer

Summer means more time outside and doing fun activities. It can also be time to give your home the much-needed touch-up. To ensure you get the most of your summer, there are some summer home upgrades you should consider doing. Discussed below are ways of how to prepare your home for summer.
Check on the Roof
One of the ways of how to prepare your home for summer is by inspecting your roof or getting a roof technician to do it for you. Some of the things you will need to look out for include;
Missing and damaged shingles. The moment you notice these problems, you need to have them fixed immediately to prevent moisture entry, leading to a more severe problem. Also, look out for subtle damage like balding shingles and fix them.
Damaged flashing. Look out for rust, as it may indicate you need to replace the flashing.
If you leave moss to grow, it will dig into your shingles and damage them while at the same time creating an entry point for moisture to seep through your roof. You can try to wash it away, but do not power wash as you can damage the roof in the process.
Stains on the siding. Stains are caused by water leaks from a damaged roof or gutter system.
After you have inspected the roof and assessed the level of damage, contact roof installation services to help with the repairs. Your gutters need attention, too, in the process. During spring, leaves, bugs, dirt, and debris tend to accumulate in your drain. If not removed in time, they clog the gutters and the downspouts, eventually not serving the purpose they are supposed to. When water spills from your gutters, it can damage your foundation and siding. Most of the time, gutter cleaning is a simple task that you can DIY with the right equipment. Start by removing all the dirt that has accumulated, then rinse with water. This will also be an excellent time to see whether the gutter has been damaged and needed repairs. Another option is getting a roofer to do the job for you if you find it too tasking.
Get Your HVAC System Ready For Summer
It can suck when you switch on your AC on a sweltering day and find it faulty. Therefore, another way on how to prepare your home for summer is by ensuring the AC is working well. Anyone using air conditioning is aware that the filters need to be cleaned and changed often. It is one of the basic maintenance tasks you can do. As you continue to use your AC, the filters become dirty, dusty, and clogged, and as a result, airflow is restricted, reducing the efficiency of your HVAC system. If it has been a while since you changed the filters, replace them before summer kicks in.
Another issue you should watch out for is dirty and clogged vents. If you contact the residential HVAC inspection service, they will do a full inspection, inform you of any damages and fix them. However, even before you call the technician, you can still check vents for pet hair, dirt, and dust. Do not forget to check whether the vents are completely open, as well to improve airflow. Check the outside unit as well. One common mistake homeowners make is to let shrub around the unit overgrow until it covers the unit and prevents effective airflow. Ensure there is clear space all around the unit, and clean off dirt as well. If you are using outdated air conditioning, now would be an excellent time for another HVAC installation. Since it will be running most of the time during summer, you want to reduce your electricity bills using an effective air conditioner. You can also minimize the use of your AC this summer by investing in window coverings to keep the house cool. In case you are using a home chiller system, another way of how to prepare your home for summer is by servicing it. Get a professional to check for refrigerant leaks and clean the chiller tubing to work effectively.
Tend to Your Yard
One thing that your family will be doing this summer is spending a lot of time outdoors. Therefore, one way of how to prepare your home for summer is by ensuring they have a clean and organized place to do so. Some of the projects you could undertake include;
Mowing your lawn and feeding it. Do not let grass overgrow till your property looks messy. Cut it to a reasonable size where your kids and pets can play. It also needs to be nourished with water and fertilizer if you want it to remain appealing.
Aerate the lawn. You want to ensure that your lawn is healthy, mainly if your kids use it to play. This process will strengthen the grass, make it grow deeper and lusher.
Plant your garden. Some plants and flowers thrive in warm soil. Herbs like thyme, oregano, sage, and basil do well in warm weather. If you plant them, you will have some fresh herbs to add to your meals this summer. Get some bright flowers as well to reflect the warm weather.
Trim trees and shrubs. To improve the curb appeal of your home, you need to trim overgrown bushes and trees. In case a tree in your driveway has overgrown, and the roots are ruining your driveway, you can hire tree removal services to help you out. Also, by trimming it, you are restoring shape and restructure.
Get your patio ready. Prepare your deck as your family will be spending a significant amount of time outside. You can start by power washing it, replacing the furniture and giving it a touch of paint. To spruce things up, add some potted plants around the deck. You can also add some accent lighting and enjoy the outdoors even when the sunsets.
This is one of the best ways of how to prepare your home for summer, which will not only improve your home's curb appeal but also make your home more relaxing.
Prepare Your Plumbing
As you go through your home maintenance list on how to prepare your home for summer, including looking into your home's plumbing system. Some of the things to keep in mind include;
Plan for an inspection. Hire residential plumbing services to come and inspect the pipes and ensure they are in good shape. Since most people will be occupied with summer activities, there will be a lot of sweating, leading to more showers and baths. Therefore, ensure the pipes and drains are clear and ready to handle the busy summer.
Inspect home fixtures, pipes, and sprinklers for leakages. Any leaks that go undetected can either lead to water damage or high water bills, or both. You do not want to pay for the water you are not using or deal with water damage repair instead of enjoying your summer. A professional plumber will ensure no tap is leaking and repair any damage.
Adjust the water heater. Your family members will be taking longer showers this summer to cool off. Some will even take multiple showers in a day, which will increase your bills. It becomes worse when your water heater is damaged as it will use more energy to run. Contact a technician for water heater repair and have that fixed.
Since you do not want to deal with plumbing issues when summer has already kicked in, contact a professional plumber for a routine maintenance check.
Take Care of the Bugs
Since you and your family plan to spend a lot of time outside relaxing or picnicking, one of the ways to prepare your home for summer is by getting rid of bugs. Some of the things you should do to get rid of bugs include:
Removing any Attractants. If any garbage or clutter is lying around, it will attract bugs like flies and ants and provide a breeding ground. Ensure you keep trash cans covered and also slightly further away from your home.
Remove standing water. If there is any stagnating water in your compound, it may be challenging to eliminate bugs, especially mosquitoes. Any sunken areas have to be filled up, and gutters have to be unclogged so that mosquitoes do not find a breeding ground.
As much you plan to do some hosting and entertaining in your yard this summer, the food you will be serving will attract bugs. Therefore, ensure you keep the food covered and when your friends leave you thoroughly clean.
Consider building a bat house. One bat can eat around 6000 to 8000 insects in one night. You may want to try this biological method of dealing with bugs.
Attract birds in your yard. Having some birds around your home is not only aesthetically pleasing, but it can help with pest control as well. Most birds will eat seeds, insects, and berries. Put a birdfeeder outside to encourage them to keep visiting to help reduce your pest problem significantly.
Trim your bushes. Overgrown bushes can provide a hiding spot for insects. If you maintain your landscape by mowing the lawn, removing weeds, and trimming tree brush, it will help keep pests away.
You can also keep pests away by going for bug repellant plants like marigold, lavender, and lemongrass.
If there are already many bugs and you are having a hard time getting rid of them, contact pest control services to come and help you.
Protect Your Home from Water Damage
As much as summer is hot, it can be a wet season and sometimes occasioned by disastrous rainstorms. Therefore, as you look for ways on how to prepare your home for summer, you should also protect your home from flooding. Some of the ways you can protect your home from flood damage include:
Cleaning the gutters. Cleaning your gutters is one of the most effective ways you can protect your home against water damage. Leaves, debris, and sticks will accumulate in your gutters and downspouts, leading to clogging and preventing rainwater from draining. This leads to an overflow and water running down the sides of your home, increasing the chances of growth of mold and mildew, and damaged siding. Therefore, clean the gutters before summer kicks in and ensure water drains away from your home.
Check for any water leaks and fix them. There are leaks that go undetected which can lead to significant damage if not corrected. Leaks can occur anywhere from your foundation, roofs, pipes, windows, and plumbing fixtures and spread to the surrounding areas. Check these areas as often as possible, especially if you notice your water bill is unusually high. You can also call a professional to inspect your home for any water damage.
Check the sump pump. This is a very vital step when it comes to ways of how to prepare your home for summer. Sump pumps usually prevent excess water from getting into the house, and if it is faulty, you will have a bigger problem to deal with. Test it and ensure it is working well. If it is damaged, get a professional to help, and if you are yet to install one, now would be a great time to do so.
In case your home suffers water damage during winter or spring, you should contact water damage residential restoration services to deal with the issues. They will help clean your ducts and vents and remove any odor. As they are professional, they will also remove any mold grown in ceilings, walls, and corners.
When taking measures on how to prepare your home for summer, focus on reducing energy bills and increasing the efficiency of some of your home's components. Doing this early will help you enjoy your summer as you do not want to rush and deal with upgrades when the weather is scorching. Get ready to invest your money, time and energy, to make your home functional and beautiful.